G & R Rentals has been in the business of providing affordable, well maintained housing since 1960.
Carbondale Apartments from G & R Rentals
One of the things we found in doing research, prior to building our apartments, was that most apartments didn't have washer/dryer hookups.  With this in mind we included Brand New Washers and Dryers in the apartments along with energy efficient dishwashers.  We also noted that heating and cooling costs were a concern among the renters that we talked to.  Each one of our apartments has a high efficiency heat pump and air conditioner, as well as ceiling fans to aid in air circulation.  Ceramic tile, plush carpeting, huge walk-in closets and private patios/decks are all features that renters wished they had, so that's all included in our apartments.
2300 S. Illinois Avenue Apartments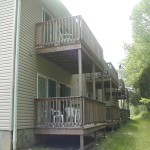 We offer 1 and 2 bedroom apartments at this location.  Each of these units contain all of the amenities mentioned above and have one large bath. They are located approximately 1 mile south of the S. I. U. Arena.  This location is very quiet and the private patios look out onto a wooded lot, giving the tenant a feeling of living out in the country.  While seclusion is the feeling, the apartments have a Saluki Bus stop at the front of the complex.  They are also within 2 blocks of one of the best meat markets and grocery stores in Southern Illinois.
8 – 1 Bedroom Apartments: $560 (single occupancy) $635 (double occupancy): 720 Sq. Ft.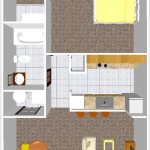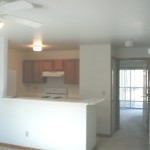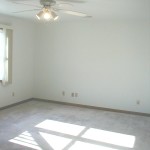 Living Room – 12'10″ x 18'8″, Kitchen – 8'4″ x 10'4″, Bathroom 9'0″ x 5'4″, Bedroom – 14'0″ x 13'4″, Closet/Utility Room – 10'0″ x 5'4″
8 – 2 Bedroom, 1 Bath Apartments:  $700 (double occupancy) $810 (triple occupancy):  830 Sq. Ft.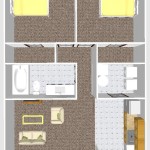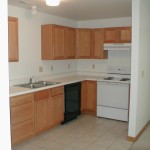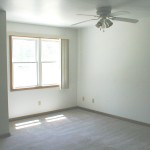 Living Room – 14'6″ x 11'3″, Kitchen 14'6″ x 10'11.5″, Bathroom 5'4″ x 11'3.5″, Each Bedroom – 11'7″ x 11'3″, Closet/Utility Room – 10'0″ x 5'4″
Property Layout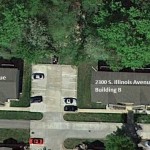 ***Disclaimer***
We want to let you know that the measurements on this page were taken off the architectural drawings and that due to decisions made during the construction phase, they may not be exact. They are intended to give you a general idea about the layout and relative sizes of the rooms, not as an exact drawing of each unit.